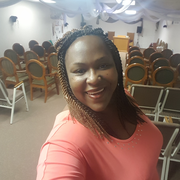 Charlene B.
Babysitter in Cartersville, GA 30120.
Looking for work as a babysitter.
Enhanced Background Check Expired

Enhanced Background Check Expired 03/27/2018

Basic Background Check not run.

Basic Background Check(Not Run)

Motor Vehicle Records Check not run.

Motor Vehicle Records Check(Not Run)

First Aid Training

First Aid Training

CPR Training

CPR Training
Cartersville, GA
Age 38
1 year paid experience
Female
Last signed in: Today
Rating Average rating of 1 (3 reviews)
×
I am reviewing the following Nanny/Sitter because I truly feel as though this is a tool that parents can use to ...
Read all reviews
Experience
Age Specific Experience
1 year of paid child care experience with:
First year
Toddlers (1 to 3 years)
Preschooler (3 to 5 years)
Grade School (6 to 11 years)
Special Needs Experience
Special Needs Conditional Experience
Attention Deficit Disorder (ADD)
Attention Deficit Hyperactivity Disorder (ADHD)
Availability
My availability calendar is valid through 3/30/2017
Available
| | | | | | | | |
| --- | --- | --- | --- | --- | --- | --- | --- |
| | Su | Mo | Tu | We | Th | Fr | Sa |
| | | | | | | | |
| | | | | | | | |
| | | | | | | | |
| | | | | | | | |
| | | | | | | | |
| | | | | | | | |
| | | | | | | | |
Skills & Abilities
Additional Services:
Potty Training
Meal Preparation
Laundry
Light Housekeeping
Willing to drive children to events, school, appointments, or carpooling
Homework Help
Reviews
I am reviewing the following Nanny/Sitter because I truly feel as though this is a tool that parents can use to get a accurate depiction of child care providers in their area. I hired Charlene in July and she started on 7/13. We orginally set up for her to work 3 days per week; however, my schedule at work demanded that I go in from 3 to 4 so we ammended the agreement as such (obviously with an increase in compensation) that we both agreed upon. However, during her 5 week of employment she showed signs of "unreliability" on Monday the 10th she called me at 6am to let me know that she would not be able to work because she was sick. I did ask moving forward if she would let me know as soon as possible as she traditionally reports at 8 am and that doesn't give me a lot of time to make arrangement. I figured no harm no foul as everyone gets sick. Then on the following Sunday 8/16 she called me to let me know something was wrong with her car (battery problems) and she didn't know if she would be able to work. Now this will be the second week in a row; however, everyone has car problems and I let her know on Sunday evening when she called to follow up that I had already made arrangements and I looked forward to seeing her on Tuesday. I must admit that I thougth it was odd that with a battery issue she couldnt' get to work the next day...but I don't know everyone situation so I just brushed it aside. She called me on 8/17 to confirm that her car battery was the issue and that she would report on 8/18 as normal at 8am. Well on 8/18 at 8am No Charlene...8:30am No Charlene (at this point I make my first call)...9am No Charlene, No Call and when I called I was thrown directly to voicemail. At this point I had to take my little one to the office to gather all my items so I could work from home. I didn't hear from Charlene until I called for the 3rd time around 5pm to let her know that her services would no longer be needed and to not use me as a reference and that I thougth is was very "unprofessional" to not let me know what was going pn and/or communicating she no longer was going to work for me. She didn't leave me a message only a text message stating "That is Fine"... All in all, I wouldn't recommend Charlene as she is not dependable and truly doesn't take her very personal type of position seriously.
Provider's Response
Working for this family was stressful however she could not pay me and i went to work one day the gas was off so i could not cook lunch.
I hired Charlene this month to be my sitter to work for me for 4 nights a week (Monday-Thursday). She came the first night 5 minutes before I needed to walk out of the house. The next day she text me at 4pm telling me she could not watch my children do to an open house at her school. I had less than three hours to find another sitter for my children. She is not reliable at all. The next text she sent me was her asking me if I was going to pay her for the one night she watched the children and if I could send it through money gram. Then sent me an email stating God does not like ugly because I had not paid her. Wow! She is not reliable at all. Never the less I contacted her and told her she is more than welcome to come by house and pick up her money for the one day she decided to show up. I will not contact her for anything else.
Provider's Response
again another family issue its just not a good choice when a family hires me and states i am having financial problems i should have thought hard and not took this job. It was in an apartment in which she was not a very clean person.
I have always been the type of person who gives someone the benefit of the doubt and does not listen to what others say but formulates her own opinion of them. Unfortunately, I should have listened to the reviews posted regarding Charlene and I hope all parents who read this listen to those of us who have posted a review. I interviewed Charlene for my nanny position back in July. We were leaving to go on vacation when Charlene would start work so she requested that we pay her in advance. I agreed that was only fair and sent her a check paying her for the days we would be gone with the assumption she would start for us upon our return. When we returned I received the following E-mail from her and I quote:
"I am so sorry I just had my friend baby that I told you about she did pass away the doctors were unable to support the heart to survive know however my friend got hired on at coca cola to work in the corporate office and she want me to keep her baby the other twin. and being that we are very close like family I am just not going to be able to nanny for you. Again I am so sorry I just hope you can use me as your weekend sitter. Also my classes this semester are mornings two days and Fridays I have assessments. I just cant apologize enough really. so so sorry but please call me when you can. I just didnt think this was going to happen but the situation with my friend is so crucial right now."
She didn't pick up the phone and call me but sent me an E-mail letting me know she couldn't take the job. I responded back to Charlene saying "I wanted to let you know that I received your E-mail and I think it is only fair that you return the money we paid you since you will not be our nanny and the advance payment was for you to start upon our return. I understand your situation and I think it is wonderful that you are helping out a friend but it seems only right that you return the money we paid to you since services were never rendered." She responded back again apologizing and saying that she would love to take care of our children on the weekends so we could do date nights and she would send a money order to me. That message was received on August 14th. It is now October 5th and I still have not received the money she owes me. She indicated that the mail carrier had problems and she talked to the post office manager. She kept telling me time and time again that the money order would arrive. When I didn't receive it I told her I would be happy to just come pick up the check from her. I sent her multiple messages saying I could meet her somewhere or even come to her house to pick it up. She finally just ignored my messages and stopped replying. I was extremely disappointed as I thought Charlene was a genuinely honest, trustworthy, intelligent, and caring person. I was going to trust her with my two precious boys. Please take into consideration the review that I have posted before considering Charlene to be your babysitter or nanny. I was hate for the same thing to happen to you. - Michele B.