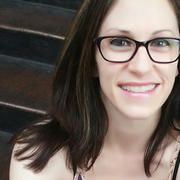 Rachel D.
Babysitter in North Las Vegas, NV 89081.
Looking for work as a babysitter.
Enhanced Background Check Expired

Enhanced Background Check Expired 11/05/2016

Basic Background Check Expired

Basic Background Check Expired 10/27/2016

Motor Vehicle Records Check not run.

Motor Vehicle Records Check(Not Run)

First Aid Training

First Aid Training

CPR Training

CPR Training
North Las Vegas, NV
Age 32
11 years paid experience
Female
Last signed in: This week
Rating Average rating of 5 (18 reviews)
×
Occasional Babysitter
We have used Rachel several times for both childcare and pet sitting. She is great with our boys (who love her)...
Read all reviews
Preferred Rate $12-$20 per hour
Rachel's Bio
Hi everyone! I would love to help out with your babies and children! I am CPR/first aid certified and I have a sheriff's card. I have over 10 years of experience with babies and children of all ages in multiple settings.
I love kids and I have a Bachelor's degree in Psychology. I used to do Psycho Social Rehab for children so with that, and all the babysitting and nannying over the years, I am highly qualified to care for all ages and multiples, as well.
I will take the best care of your children! I will treat them as if they are my own. Being a kid isn't always easy and I can give them the attention they need. Whether that be playing games with older kids or encouraging the little ones to say their first words, I love it all.
Also, my pay rate varies depending on how many children, how far away you are, and I require a 3 HOUR MINIMUM or $50, but this depends on the hourly and the distance to your place as well. It may be a 4 hour min, 60 dollars.
BABYSITTING/NANNY RESUME
History/Experience
Nanny- Feb 2011- March 2013
Worked for a mother of 1 baby. Then 2 older kids came into the family. I cooked for them, did laundry, dishes, grocery shopping, and pick ups from school.

Live In Nanny - 11/09 -11/10 2 kids, ages 12 and 8. I did everything from grocery shopping to laundry, to taking them to and from their after school and weekend activities. 
College: UNLV and CSN- Graduated with Psychology degree Grad date: May 2012 GPA 3.0
Certifications: Infant and child CPR and first aid including defibrillator.
Skills: -Knowledge of nebulizers, inhalers, and have administered meds to people with diabetes and autism.
-Great Swimmer -Great with kids. Love to play with kids and keep them learning and growing!
-Great driving record, experience driving in Las Vegas for over 10 years.
Own transportation
More references below and I have tons more, too! Just ask me
Natalie Snyder
702979-574-4912
Reference name: Michelle Spain
Phone number: 757-303-0201
Experience
Age Specific Experience
11 years of paid child care experience with:
First year
Toddlers (1 to 3 years)
Preschooler (3 to 5 years)
Grade School (6 to 11 years)
Pre-teen/Teenagers (12 years and over)
4 to 5 years of infant care experience
Special Needs Experience
Special Needs Care Experience
Special Needs Conditional Experience
Asperger's Syndrome
Attention Deficit Hyperactivity Disorder (ADHD)
Attention Deficit Disorder (ADD)
Autism Spectrum Disorder/Pervasive Developmental Disorder/Asperger Syndrome
Special Needs Services Experience
Availability
My availability calendar is valid through 10/26/2016
Available
| | | | | | | | |
| --- | --- | --- | --- | --- | --- | --- | --- |
| | Su | Mo | Tu | We | Th | Fr | Sa |
| | | | | | | | |
| | | | | | | | |
| | | | | | | | |
| | | | | | | | |
| | | | | | | | |
| | | | | | | | |
| | | | | | | | |
Skills & Abilities
Homework Help:
Finishing homework
Checking answers
Proofreading
Basic Math
Elementary Science
Additional Services:
Meal Preparation
Laundry
Light Housekeeping
Swimming Supervision
Crafts
Willing to run errands as needed
Willing to drive children to events, school, appointments, or carpooling
Reviews
Rachel kept my 2-year-old son occupied during my daughter's Brownie meeting. He was calm and happy with her, and she was very attentive.
Rachel has been working for our family for 8 months. She has quickly become a loved member of our family. As an individual, Rachel is strong, hard working, and reliable. In the time she's worked for us she has never once been late or cancelled a shift. She takes her job seriously and has always been there for us, even at the last minute, to help in any way she can.
Rachel started when my son was about 9 months old. Being 10 weeks premature, my son was developmentally closer to 7 months. Rachel was ready and willing to jump in and do whatever she could to help my son's development and growth. She was extremely diligent and caring, often being the first in our family to notice potential hazards to my son -- toys he wasn't ready for, the next steps in baby proofing, etc. I give her credit for teaching him his first word -- "ba" for "bath!" Rachel is studying psychology at UNLV, and is always teaching us new things about child psychology and development. She is passionate about children and is constantly reading and learning more about them.
Rachel has always been on top of household chores, which makes a working mom's life much easier! She does the dishes, washes and preps my son's bottles, sweeps the floor (important when you have a crawler!), and does laundry. She is upbeat and willing to help with anything I've ever asked.
In recent months, my boyfriend's two children, ages 9 and 12, have moved in with us. Rachel, again, was immediately eager to accept the new responsibilities -- helping them with homework, enforcing tv and computer restrictions, cooking dinner, guiding bedtime routine, and being a role model and friend to them.
We will be keeping Rachel in our lives as a part-time babysitter, and, now, as a friend. She would be an asset to any family who hired her.
Provider's Response
Wow! Thanks so much you guys. Love you!
I have used Rachel for over a year. She started when our son was 1.5 years, and now we added a lil girl who is now 10 months. She is excellent with multiple kids, newborns, and toddlers! I highly recommend her to anyone!
Provider's Response
Thanks so much Desiree!
Rachel is great. She is very reliable, an excellent communicator and is great with our son. We are very happy with her and lucky to have found her.
Rachel is EXCELLENT! I can't say enough wonderful things about her: she's reliable, prompt, flexible, and, most importantly, wonderful with our 6 month old. She keeps him happy and entertained, and responds well when he's crying or in distress. She sends text messages or calls if she has questions or is concerned, and just to reassure us he's doing okay. She's everything you could ask for in a sitter!
Provider's Response
Thanks so much! Can I use you as a reference, since I have now graduated from UNLV.
Rachel watch our two boys (4,1) so my husband and I could get out on a much needed date night. The kids absolutley LOVED her! My four-year old asked me if she could come and stay forever! There were also little things that we appreciated (wrapping up the leftovers and putting them in the fridge, dishes in dishwasher, clean playroom) She even called to my attention some items in the childrens playroom that were unsafe for the baby. Overall,it is very hard for us to leave the kids in the care of someone else but after having Rachel sit for us we would not hesitate to call her again. Thank you Rachel!!!!
Provider's Response
OMG thank you. I had fun and cant wait to do it again!! Always call whenever you are in need! Nice to be right around the corner, as well! TTYL
Rachel has been babysitting our two children, ages 5 and 7, for occasional date nights for over a year now. She was referred to us by another sitter who had worked with Rachel and thought we would like her. She has been very reliable and trustworthy, and we feel completely comfortable leaving our kids with her. We feel she will be able to deal with any situations that come up. She has a nice, calm demeanor and the kids respond well to her. They ask for her all the time! I would definitely recommend her.
Provider's Response
Thank you so much. I love working for you! Your kids are great!
Date night sitter
Rachel is AWESOME! She has been taking care of our 2 and 4 year olds for date nights for almost a year. She is always responsive, on time and our kids love her. I would highly recommend her to anyone looking for a sitter. -Michelle
Provider's Response
Thanks!! Miss you guys!
Vegas Vacation Sitter :)
For the past two years while on our Family Vegas vacation I have had Rachel watch my son while we go out in the evening to have some adult only fun. My son had a wonderful time and really enjoys spending time with her. She is fantastic with children and is very accommodating to changing schedules. Rachel took my son swimming at the pool and they played board and card games in the room before bed. I felt completely comfortable and safe with her taking care of my son and I will be reaching out again for our next Vegas Vacation. I would highly recommend her for local and vacationing families!
Provider's Response
Thank you very much! See you next time!
A great babysitter for Vegas visitors!
This review is a bit late, but over the summer our family visited Las Vegas to attend a wedding for adults only. We found Rachel via Sittercity and she spent an evening with our 6 year old son in the timeshare apartment. Rachel was great... She took him swimming and bowling, and kept him happy and entertained during our night out. Rachel was also kind enough to meet up with us beforehand to ensure that we were all comfortable with one another. I wish her luck and success in the future. I am glad we found her!
Provider's Response
Thank you and contact me again if you visit again in the future!
Thankyou
Rachel looked after our nearly two year old one evening when we visited Las Vegas recently. I was nervous about using Sittercity or any other agency rather than a babysitter who we knew, but Rachel was great with communication, letting me know once our little one was asleep so I could relax. Rachel is reliable, was great with our daughter and made me feel at ease. Thanks again.
Responsible and great with kids!
I've been using Rachel weekly for 4 months now. She is responsible, timely to respond, and a great communicator. My two children under Three love her and my eldest son gets so excited when he hears she is coming for the day. I would be happy to recommend her for any babysitting/nanny position.
Provider's Response
Awesome! Thanks so much Tara!
Didn't return text or phone call
Rachel babysat my son once and everything seemed to go pretty well. My husband asked if she would be available the following week and she said she would check her schedule and let him know. Well, she never got back to him so I called and texted her and got no response. Maybe her drive to our house was too far? I don't know. It would have been nice to get a return phone call or text just letting us know she couldn't watch our little one.
Provider's Response
I believe it was just a misunderstanding. I hope you have found other care. Thanks for having me!
Excellent sitter
Rachel was awesome......I came from out of state and needed a sitter and contacted Rachel. She was good at making arrangements and staying in touch with me until the time frame needed. She was on time and great with my grandson. I definitely recommend Rachel to anyone needing a sitter.
Provider's Response
Thank you!
Las Vegas Night Out
Going to a new city and needing quality childcare for a short time is a hard thing to find. You never know who you will get so it made me quite anxious. I used Rachel to watch our son in a Vegas hotel room for an evening. I asked if I could talk with her before we got there and she happily agreed. There was some change in the start time and she was very accommodating. She showed up early and even brought some activities of her own. I asked her to text me throughout the evening to let me know how things were going. She texted with photos to make me feel at ease. If I return to Vegas I would definitely use her again.
Provider's Response
Thanks! Hope to see you again in the future!
A baby sitter I recommand / Je la recommande vivement
Rachel was perfect. Two times she took care of our baby during several hours. As we are foreigners (from France) we were quite anxious but Rachel relived us: professionnal, she nows what to do to and the baby feels it too.
The second time our baby was happy to see her again.
Rachel was flexible and made her available while we were not clear on the exact hours we would have need her.
Rachel updated us on the sleeping time thaks to a sms.
If we come back again in Las Vegas we would ask for her again.
Rachel a été parfaite. Elle s'est occupée deux fois de notre bébé pendant plusieurs heures. Comme nous sommes étrangers (nous venons de France) nous étions assez inquiets, mais Rachel a sû nous rassurer très vite: professionnelle, elle sait quoi faire et comment et le bébé le ressent tout de suite.
La seconde fois notre bébé a été très heureuse de la revoir.
Rachel a sû être flexible et disponible alors que nous ne savions pas exactement à quelles horaires nous aurions besoin d'elle.
Rachel nous a tenu au courant par texto quand elle s'est endormie. Ce qui rassure.
Si nous revenons à Las Vegas nous aurons recours à ses services une nouvelle fois.
Horrible Attitude
I initially contacted Rachel to watch my son while he would be sleeping for three days, but she was only available for one of those days. We were visiting on a short but activity packed trip and were trying to finalize reservations. She agreed to the one day but then negotiated her rate (if he woke up) which is fine but made it an issue if she had to actually take care of him while she would be sleeping on the couch. I figured sleeping would be fine since he's asleep any ways but the whole interaction was just odd. The day of I asked her to come an hour later as our reservations didn't pan through and he didn't sleep until late the day before. Since she made it an issue to care for him if he was awake I figured I'd make her life easier and put my son to sleep first but then she started sending me texts that she doesn't feel it's worth her time, and that she's already working all day etc and she requires a 4 hr min (which I had already agreed to give her at least 5 hrs of pay). I explained the late start was so I could put my son to sleep myself and make it easier on her, to which she then apologized and then re-agreed to come. Then she rudely sent a msg an hour before saying that "I'm telling you right now that I'm not leaving here at 6:15 to arrive at 7 and not know what room I'm going to". At this point I was done and cancelled all my plans and told her I'm not comfortable with her watching my son anymore with these weird interactions and she just said "no problem". So I never received care from her but all the flags of a bad situation appeared on the same day of me requesting care which tells me she isn't reliable or trustworthy. If someone from out of town is booking you, made reservations and has a 1 yr old, you'd think that you'd try to work with their hectic schedule and make a vacation easier on them. Very disappointed.
Provider's Response
I am very sorry that you got the idea that my attitude is bad, we never even spoke on the phone. I have to be cautious being a female and especially with the hotel jobs. I did not mean to come off the wrong way. I never have an issue taking care of any child, as that is my passion and what I do for a living, as well as it is what I have been doing now since I was 17 years old. My other reviews can attest to my performance. Again, I am very sorry you felt you needed to write this review without ever even meeting me.
Occasional Babysitter
We have used Rachel several times for both childcare and pet sitting. She is great with our boys (who love her) and is obviously great with dogs. Rachel is very organized and dependable and I would recommend her to anyone.
Show all reviews (18)