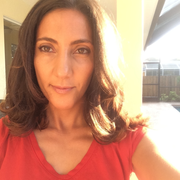 Courtney W.
Care Companion in Kissimmee, FL 34741
Looking for part-time work as a care companion.
Enhanced background check

Completed 04/12/2022.

Contact the caregiver directly to see the report.

Enhanced background check 04/12/2022

Basic background check

Expired.

Last completed on 02/05/2021.

Basic background check 02/05/2021

Motor vehicle records check

Expired.

Last completed on 07/14/2017.

Motor vehicle records check 07/14/2017

First aid certification

Certification is self-reported and not verified.

Verify directly with the sitter.

First aid certification

CPR certification

Certification is self-reported and not verified.

Verify directly with the sitter.

CPR certification
Kissimmee, FL (Kissimmee, FL • 14 miles away | will travel 30 mi)
4 years paid experience
Last signed in: Last week
Rating Average rating of 5 (2 reviews)
×
Courtney is an amazing person and nanny. She is so experienced, so thoughtful, and she goes above and beyond. ...
Read all reviews
Home Care Rates $15 per hour
Courtney's Bio
My name is Courtney. I think I might be a great fit for your job. One of my closest friends was a 104 lady who has since passed, but I had the privilege of staying with her when her niece would go out of town and then assisting her when she was moved to a nursing home. I would pick her up every chance I could and we would "run the town" which normally consisted of going to our bible meeting or sitting by the water lol. I feel like I am an old soul myself, and just appreciate the wisdom that comes with age. The first time her family asked me to stay, her first words were "If they told you to come babysit me, I don't need anyone." I quickly said, "No, I'm not here for you, they asked me to watch the dog. They didn't want you to have to be bothered with him." Thankfully, she bought that and by the time I was packing my stuff to leave, she told me that her an the dog are sad to see me go and I'm welcome back anytime. That was the beginning of our beautiful friendship. I'm still very close with her family and have excellent references. I currently work as a part time nanny/tutor, but I need additional hours. I am honest, trustworthy, patient and respectful. Additional qualities that make me a good fit with the elderly is I love to cook, watch old movies, listen to old stories and look at old pictures. I am CPR certified and First Aid certified. I do not smoke, and try to eat mostly healthy. I love being outside and I love the water. If you have any questions, or would like more information, please let me know. Have a great day. (I tried to put 10-20 as my
Rate depending on if it's overnight or what expectations are but it won't allow me to put a range, so I'm going to put 15 but it could be lower).
Experience
Age Specific Experience
4 years paid experience with:
Under 55 years old
65 to 74 years old
Experience with providing basic care services:
Conversation and companionship
Safety supervision
Meal preparation
Medication reminders
Social activities
Light housekeeping
Exercise/Physical activities
Laundry and linen changes
Shopping
Mobility assistance
Experience with providing personal care services:
Experience with providing individualized services:
Medication Administration
Medication Assistance
Medication Management
Grooming Guidance
Assistance with Pets
Meal Planning
Nutrition Education
Mobility Training
Experience with providing health & medical services:
Willing to run errands
Willing to provide non-medical transportation (e.g. to appointments, shopping, errands, etc.)
Availability & Job Preferences
Availability Duration
Prefers to provide visiting care
Short term (1 to 3 months)
Temporary (4 to 12 months)
Permanent (1 to 2 years)
Permanent (2 or more years)
Job Duration
Willing to consider a part time position
Availability
My availability is valid through 2/5/21
Weekday Afternoons
Weekday Evenings
Skills & Abilities
Languages Spoken
Reviews
Courtney is an amazing person and nanny. She is so experienced, so thoughtful, and she goes above and beyond. Our daughter loves her so much and we trust her completely. We are truly grateful she came into our lives...
I simply cannot say enough about Courtney and what she has meant to our children and our entire family for the past four years. Courtney has watched and cared for our children, but she has done so much more than merely supervise them. She has a tremendous bond with both of our children. Courtney is an extremely trustworthy, loyal and honest person. She has picked up our girls from school for the past four years, tutored them, helped them with their homework, taken them to various practices, taken them to parks, prepared balanced and nutritious snacks, and entertained them.
Courtney takes a tremendous amount of pride in her ability to tutor children. She not only makes sure our kids complete all their homework daily, but she goes above and beyond to make sure our kids truly understand everything. Because of the time Courtney has spent with our first grader, she reads at a third-grade level. Courtney has also spent a lot of time working with my first grader on developing her writing skills and as a result her teacher has commended her writing skills and she has gotten Star Writer recognition in her class on a regular basis.
Courtney has also played a large role in my fourth grader obtaining straight A(s) or honor roll on all her report cards. Courtney researches the way the school wants the child to solve math problems so she can then explain it in a way that is easier for my now 4th grader to understand. She makes sure my kids are keeping up with their weekly time goals on school instructional computer programs such as I-Ready and she researches what areas they need more practice in and puts together plans and materials for my kids, such as index cards and study guides.
Courtney goes above and beyond to research the different assessments the school administers to my kids. She analyzes how they did on them and what areas they need more practice in. She does this on her own time, on her own accord. She truly wants the kids to succeed and reach their highest potential. She takes the grades my kids get very personally, as if it were a grade on her teaching/tutoring ability. It's not just the big tests; she analyzes every paper they bring home and goes over it with them so they can see why they got something wrong, so they learn from their mistakes.
Courtney is a multi-talented individual. She is very creative, and this comes through when she tutors my children. Sometimes she explains things to my kids in a way that I had never thought of which makes me so thankful that my kids have her perspective. She makes things fun and she is very patient.
I highly recommend Courtney as a nanny, babysitter, caregiver or tutor. I know she will help your children succeed as much as she has ours. Please feel free to contact me if I can be of further assistance.
Gudiela Cross 407-973-0948