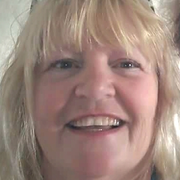 Linda M.
Care Companion in Stafford, VA 22554
Looking for part-time work as a care companion.
Enhanced background check

Never run.

Enhanced background check(Not Run)

Basic background check

Expired.

Last completed on 06/14/2020.

Basic background check 06/14/2020

Motor vehicle records check

Never run.

Motor vehicle records check(Not Run)

First aid certification

Certification is self-reported and not verified.

Verify directly with the sitter.

First aid certification

CPR certification

Certification is self-reported and not verified.

Verify directly with the sitter.

CPR certification
Stafford, VA
10 years paid experience
Female
Last signed in: Within a month
Rating Average rating of 5 (20 reviews)
×
I can't say enough about Ms. Linda. She is wonderful with my daughter. She takes the time to play with her and d...
Read all reviews
Home Care Rates $12 per hour
Linda's Bio
Hi...My name is Linda Moore and I'm a CNA and have worked as a Activities Asst in an asst living place.I love to talk :) and I love arts&crafts and gardening.I have 3 children and 4 Grand children and another one on the way. I have lived in Fred/Stafford my whole life...so I'm very well known.I teach Sunday School,Sub for Stafford Schools,am a member of the Stafford Co.Crime Solvers for 10 yrs.   I love people :)
Experience
Age Specific Experience
Experience with providing basic care services:
Conversation and companionship
translation missing: en.profile.provider.search.companion_care.basic_care_experience.bathing
Availability & Job Preferences
Availability Duration
Prefers to provide visiting care
Permanent (2 or more years)
Job Duration
Willing to consider a part time position
Availability
My availability is valid through 5/2/18
Day-time Weekdays (M - F)
Weekday Afternoons
Weekday Evenings
Weekends Daytime
Skills & Abilities
Languages Spoken
Reviews
I can't say enough about Ms. Linda. She is wonderful with my daughter. She takes the time to play with her and do fun crafts. Besides being so great with kids she is trust worthy and always on time. I know when I needed her to babysit my family is in good hands! I highly recommend her.
Miss Linda has watched my son a few times since spring. She is amazing. She brings her own toys for my son to play with. They work on arts and crafts together, and play constantly.
Linda genuinely cares for children, and you can immediately tell that kids are her passion.
My son immediately embraced her and asks for her the next day.
Miss Linda is truly the best, and you will have no hesitations about leaving your children in her care.
Linda is definitely the answer to all your prayers when looking for a sitter, but she is so much more than that! I immediately knew she was perfect in the first 5 minutes my children and I met her. Her ability to bond with my children came so naturally, and all of my children have much different personalities. I always come home to happy boys that are excited to show me everything they have done including crafts. Every time the door bell rings and it's not Linda my boys get disappointed! Linda has become a part of the family and I couldn't be happier that we have found her.
I can not say enough wonderful things about Mrs. Linda. She is full of life and has endless energy. She treats my children as if they were her grandchildren. They love to do any project she brings and keeps them engaged the whole time. We love having Mrs. Linda over to play. I am a military wife of five boys with my husband currently overseas. My heart can not tell you what Mrs. Linda brings to our family. We are more than just a job and she is more than an employee. She makes us laugh, keeps us moving and always asking..."When is Mrs. Linda coming back?"
My two little ones absolutely LOVE Ms. Linda! My son asks for her to come over even on weekends that we don't have plans on going out. She's always early and always has projects planned while watching our kids. Her profile is true to a tee. I was skeptical with leaving someone with out kids, since they are both under 3, but I felt comfortable as soon as she came over for an interview. I promise you will not be disappointed with Ms. Linda, and I promise neither will your kids.
Linda has worked for us for many months. She is the best of the best by far. She is exactly who she says she is. Highly recommmend.
Our kids loved having Linda watch them when we went out on our last (rare) date! She kept them busy and happy with crafts, artwork, and games. And when we came home, we found them contently fast asleep for the night. We were more than satisfied with the care Linda provided for our 3 children.
Linda really helped us out on short notice. She was very professional and great with our 2yr old son. She was sure to have all the details she needed to care well for our children and be prepared for any situation. We arrived home to sleeping babies. Our son had fun playing before bed and even asked for her the next morning. =) Very pleased.
We love Miss Linda! She is warm, caring and kind. She loves to entertain the kids with her homemade crafts, which my boys LOVE and she is always ready to get down and play with them. She is exceptionally prepared - something that I like so much knowing I'm leaving my babies with her:) Tonight was the first night we have left our boys with anyone to put them to bed other then us or their grandparents and MIss LInda had no problems at all!! We are so thankful that we have found someone that will care for our kids the way we do. Looking forward to seeing you soon! Amanda B.
Very good babysitter. She's understanding and well organized,
Linda was a fabulous pet sitter! Our two kitties were superbly taken care of. We will definitely use her again when we are out of town. Thanks so much Linda!
We are so happy to have met Linda!!! She has babysat our 3 year old son 2 times now... when we return home, she always has the house tidy and a sheet indicating what they spent their time doing in our absence. She is warm, friendly and very personable... I think my son instantly felt comfortable around her. She always arrives early, and brings lots of fun crafts/game like activities to do. Our son had so much fun with Linda that he asked about her the whole rest of the day after she left! I would recommend her to anyone who is looking for a warm, loving individual to care for your children.
We were truly blessed when Linda entered our home to babysit our son.Along with her enthusiasm and warm smile, she even brought arts and crafts!! We felt totally comfortable and at ease leaving her in charge and were able to enjoy a much needed night out. When we returned home, our son had made and left out for us to find some very sweet art projects that will no doubt become tresured momentos. Linda had even written a detailed timeline of the evening so we would know all that the two of them had done while we were out. Linda more than exceeded our expectations! And I know she made quite the impression on our son when I went to his room to give him a kiss good night and he asked where Ms. Linda was and when could he play with her again. Too cute!! We will definitely use Linda again for our babysitting needs!! And I can bet that our son is looking forward to that too!! Thanks Linda!! :)
My son loved Linda! She was wonderful and energetic. I was concerned since this is the first time I left my 4 year old with a sitter but when I was left I actually had to ask for my hugs and kisses. They did wonderful artistic projects together. In an ahh moment when I came home there was a big sign on my railing that said "I love you Mom". He enjoyed her care very much and asks for her now after only one care day.
First appointment to meet kids/me, called about hour before the appointment and needed to reschedule for two days later, then didn't show up or call to cancel.
Linda is exactly how she appears in her profile: responsible, reliable, friendly, and genuinely enjoys children. Our children thoroughly enjoyed her providing care for them. Linda engaged them in crafts and games. The kids enthusiatically responded that they would like having Linda care for them again. I, as a parent, was very comfortable after speaking with her, her references, after first meeting her, during and after the period she provided care for our children. We highly recommend Linda should you have child care needs.
We loved having Linda sit for us and my daughter really looked forward to having her around when I was out of town on business. She is alot of fun, very energetic, and just like a really kind grandma (as my daughter would say). She was very prompt, extremely organized and very helpful around the house. I only wish I could have given her a full-time position if I could afford it. I definitely would recommend her to anyone.
Linda is currently our Nanny. When she was first introduced to our kids she immediately bonded with them demonstrating creative ideas to keep the kids engaged. Linda is reliable,dependable,honest and has alot of energy which is great for detailing with very active kids. Seketta and Al
Linda has been providing care for our three children for the last seven months. She is reliable and on time. The kids enjoy the crafts and outings she plans for them. She often finds interesting and creative activities for the kids and she is always willing to go for a nature walk or play outdoor or indoor games with the kids.
Linda is your quintessential grandmother type sitter. She really loves kids and it shows because the kids really love to be around her. She easily connects with the kids and she continuously entertains them through play, games and projects. We appreciate having her watch our kids and the kids really look forward to her staying with them. We highly recommend her.
Show all reviews (20)