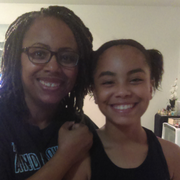 Verenice R.
Pet Care Provider in Knightdale, NC 27545
Looking for work as a pet care provider.
Enhanced background check

Expired.

Last completed on 07/12/2021.

Enhanced background check 07/12/2021

Basic background check

Expired.

Last completed on 05/10/2017.

Basic background check 05/10/2017

Motor vehicle records check

Expired.

Last completed on 07/20/2021.

Motor vehicle records check 07/20/2021
Knightdale, NC (Knightdale, NC • 12 miles away | will travel 10 mi)
6 years paid experience
Female
Last signed in: Last week
Rating Average rating of 5 (11 reviews)
×
Jewels is great with our 5 month old daughter. She engages in educational play with her, takes her outside to en...
Read all reviews
Check-ins and visits $10 per visit
Verenice's Bio
Hello my name is Verenice. I love animals alot. I prefer dogs because cats make me sneeze. If you need a person to care for your dog or pet you always can count on me. Why you ask because I have a dog of my own and I have time to do so. I am willing to walk, feed, and love them like my very own. You can trust me to keep your house free of mess. I will be there to walk your friend every day 
Experience
6 years of paid experience
Availability
My availability calendar is valid through 8/16/2019
Available
| | | | | | | | |
| --- | --- | --- | --- | --- | --- | --- | --- |
| | Su | Mo | Tu | We | Th | Fr | Sa |
| 6-9a | | | | | | | |
| 9a-12p | | | | | | | |
| 12-3p | | | | | | | |
| 3-6p | | | | | | | |
| 6-9p | | | | | | | |
| 9p-12a | | | | | | | |
| 12a-6p | | | | | | | |
Reviews
Jewels is great with our 5 month old daughter. She engages in educational play with her, takes her outside to enjoy the sunshine and the weather, and keeps detailed notes of her day. She's extremely conscientious of our goals for our daughter's development and is a dream to work with from a parenting perspective. 10/10 would recommend Jewels.
Jewels watches our 5 month old daughter in our home while we are working. She takes wonderful care of our daughter, engaging her in educational play, taking her outside to enjoy the sunshine and keeping detailed notes of her day. Our daughter is always pleased to see her and enjoys the time she spends with her. She is extremely easy to work with, from a parents perspective, and is conscientious of our goals and priorities for our daughter's development. She has tons of experience with children, and stayed with her previous families for periods of years before we started to work with her. We hope she will be a part of our lives and our family for many years to come. 10/10 would recommend hiring Jewels to watch any children.
Jewls is amazing. My daughter loves spending time with her. Jewls was a huge help for me as I moved to the area from out of state. I had no family or friends nearby to help with my daughter. When we first started seeing her I was 37 weeks pregnant and needed someone to watch my daughter while I went to Dr appointments and for when I went into labor with my son. She made her self available to use at anytime needed for the big day. She regularly checked up on us before and after I have birth. She very reliable and trustworthy. It was so amazing finding someone so willing to help in a time when I really needed it. I know my daughter can't wait to go back to see her.
Ms. Jewels is amazing cares for my son like her own couldn't ask for anyone better
Jewels was wonderful in accommodating my daughter. Our daughter loved going to her house for the 4 days needed. I would recommend.
As a busy mom, wife, and professional, we needed someone to help us with our son on the long term. We had difficulty finding a committed & responsible caretaker. I feel like many babysitters that I talked to, do not understand the seriousness & responsibility that involves taking care of a child regularly. Now, my husband and I, we can better focus on our responsibilities, and provide a more stable environment for our son. We are very grateful that Ms. Jewels agreed to work with us. She's reliable, responsible, structured, very sweet, and my son loves to spend time with her. Highly recommended!...you won't regret it.
Jewels was absolutely amazing with our children! I have a 10 year old daughter and a 12 year old son who has down syndrome. We had friends come into town and needed someone to watch the kids. Jewels took an active roll with our kids. She made sure to dedicate time to each of them individually and together to do things they were interested in. She wanted to get to know what they liked and the things that interest them in order to bond with them, which we loved. My kids did nothing but rave about Jewels the next day and asked when they would get to see her again. I highly recommend Jewels to anyone looking for a trustworthy, fun and loving caregiver. I will not hesitate to call her back.
Verenice was of great help to my family.
We asked for her help in different occasions while my wife was close to delivery our 3rd child. In a couple of occasions (both last minute calls and during night time), she was able to take care of our 2 children (7 and 9 years old), help them in the mornings with breakfast and take them to school.
She showed to be trustworthy, reliable and to care for our children and to us as a family. I would not hesitate to call her in the future if we would need babysitting help.
Alberto
Verenice was able to babysit for me overnight for a last minute meeting out of town. I felt good knowing I was leaving my daughter in good responsible hands. It was a great experience and I'll definitely be using her services again.
Jewels goes above and beyond expectations. She truly cared for (rather than just "babysat"), and enjoyed getting to know my 2 girls (age 5 and 8). She has a wonderful personality and is a joy to spend time with. Jewels makes an extra-special effort to help the family care for their children, so that the parents can feel comfortable doing what they need to do while their children are in outstanding hands. She is an excellent communicator, and keeps parents informed when there are any changes in schedule, etc. She is also a careful driver, and always puts safety first. I would highly recommend her to anyone seeking quality and loving care for their children.
Our story with Verenice began back in October 2011, when our daughter Ashlyn was 11 months old. Our current sitter was moving and we needed a new sitter ASAP. After posting a job on Sittercity, we received several responses. We finally narrowed it down to seven potential candidates. Once the interview process began, we soon realized that finding the right sitter was going to be harder than we thought. They either lived too far, charged too much, had limited availability or were just not the right fit. By the time we finished our sixth interview, we began to get discouraged that we were not going to find the right person for us. That was until we got to our seventh interview of the day. Verenice was like a fresh of breath air. My husband and I knew right away that we had found our new sitter!
We could not ask for a more loving and caring person to care for our, now
3 year old daughter. Verenice takes her on walks to the park, swimming, to the library for story time, to Petsmart to see the animals, they read books together and arranges play dates for her. She has taught Ashlyn how to spell her name, the alphabet, counting, shapes and colors. She feeds her breakfast, lunch and dinner depending on our schedules. My husband and I work full time and our hours vary, so on nights that we pick her up, she has her ready for bed in her pajamas. Verenice is also, very accommodating with our schedules. Ashlyn has spent the night with Verenice on occasions if we have to be at work really early in the morning.
Verenice aka "Jewels" or JuJu to our daughter has been a very important part of our families lives. We would HIGHLY recommend Verenice to care for your family like she has ours.
Show all reviews (11)