Any Ramona CA Dog Sitters?
Posted by Austin A. on 1/31/2023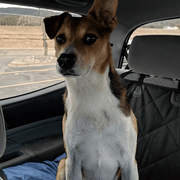 I'm new to this website and just trying to get my options worked out. I have a mature 40lb mutt who is sweet, and non aggressive. He gets along with kids and doesn't even notice cats, but he likes to be the only dog in the room. If they are half his weight he is fine with them. He does get separation anxiety but having him do a few tricks for treats calms him down. We want to try and take a few vacations this year and are looking for someone who we can make plans with and keep them.