After school sitter for a very special boy
Posted by Kirsten K. on 8/23/2023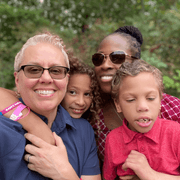 We are a family of two moms and 9 year old boy/girl twins! We are looking for a sitter/caretaker/personal care aide for our 9 year old son with special needs for after school hours.
We reside in Watertown. Hours of need are:
Monday - 3:00pm to 5:00pm
Wednesday - 2:00pm to 4:00pm
Friday - 1:00pm to 3:30pm
GENERAL RESPONSIBILITIES: After school bus drop off:
Play, Diaper change/Toileting, Outdoor walk, Snacks
Our 9-year-old son is loving, active, has a great sense of humor and is cute. At home, he likes to play with his twin sister and enjoys playing on the piano, with his toys and spending time outdoors.
This is a unique opportunity as we the family interview and hire the caretaker, however you will be paid by a state run program (Tempus Unlimited). We will provide you information if you are interested in any or all shifts.
Additional Details
Number of special needs care recipients: One care recipient
Age Groups
Services Needed
Dressing Assistance
Feeding Assistance
Grooming and Hygiene
Lifting and Transferring