Retired? Love Dogs? Want to help a worthy cause? Reliable?
Posted by Michelle M. on 9/9/2022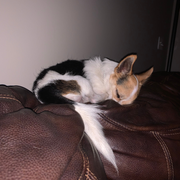 Hello, After a year plus of working from home, I'm returning to the office and need a dog nanny. I do dog rescue, taking in the unwanted and the neglected, so the furbabies in my house change....some have some fear or behavioral issues but none are aggressive. Ideally, would like someone to come from 10-3 during work-week days with occasional overnight stays when I am out of town. For those stays I need someone that can be here almost 24 hours. During your time here you'll play with them, feed them, keep them company and take them out to potty (fenced yard). Give medications to those that need it. Dependable transportation, vehicle, insurance and references are a must. Competitive pay.