Nanny needed for toddler girl!
Posted by Runalia B. on 7/12/2022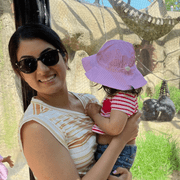 Hello! We are looking for a caring and energetic nanny for our 2-year-old daughter. Our daughter will be in preschool Monday-Thursday and at home all day Friday. We will need help with after-school pickup on days we cannot make it. There may be days you will be home without the child during which time you will be asked to help out with some house chores in lieu of childcare. Job description/requirements : - Monday-Thursday 1/2pm-6pm, and Friday 8am-5:30/6 p.m. - After school pick-up on Wednesdays when parents cannot make it (and approximately once every 4-6 weeks after-school pick-up Monday-Thursday) - Meal preparation, childs laundry, and light household chores (when child is not there) - COVID-19 vaccinated/immunizations up to date Please message me if you are interested!
Responsibilities
Driving the Kids
Prepare Snacks/Meals
Light housekeeping
Light laundry