Part-time nanny needed 30 hours a week (daytime hours)
Posted by Stevi W. on 9/23/2023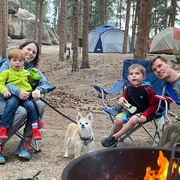 We are a loving family with 2 boys: Harris (5) and Ellis (6.5). They are sweet, loving, snuggly, and so much fun but are also rambunctious, wild, and naughty at times. They are at the age where they will test you, try to push boundaries so you will have your work cut out for you, but the love they give is worth every second! Mom works from home, dad works at home/nearby office and travels a lot. We have a small dog (23 lbs, Cavachon named Chewy), he's sweet, fun, and still a puppy (1 yr).
M-F, Pick up Harris from school at 11:15 and Ellis at 3:00. Play with them, take them on outings, help with homework and drive to activities, ending at 5:00 or 5:30. Tidy their room (and make beds), prep their meals, clean up after their meals, keep toys picked up after them (and hace them help). Additionally, their laundry should be washed/folded/put away once per week.
We live in Windsor near Budweiser Events Center. Kids schools are 5-10 mins away and after school activities are 15-20 mins away.
Requirements
Comfortable with pets
Sitter has own car
Responsibilities
Driving the Kids
Help with homework
Prepare Snacks/Meals
Light housekeeping
Light laundry
Running errands
Sick care