Household help for busy doctor and his two dogs (no children)
Posted by Jason J. on 9/11/2023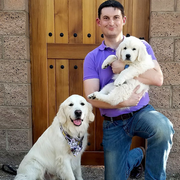 I'm a busy doctor that travels a lot for work and is also in the air national guard. I have two golden retrievers who are like my kids. I need help with running the household (in other words more focused TLC than a regular housekeeper), errands and keeping the dogs happy. I'm particular in some ways but overall easy going and flexible -- and will be clear and concise with my idiosyncrasies.
I'm interested in someone taking over running the household (groceries, laundry, cleaning [including possibly managing a cleaning service]) and the dogs walks and day care. Duties will include laundry and meal prep. I'd prefer to have help in the house from approx. 10am to 2pm Monday to Friday, but am flexible.
I don't have children.
Requirements
Comfortable with pets
Sitter has own car
Responsibilities
Prepare Snacks/Meals
Light housekeeping
Light laundry
Running errands