After-School Sitter, 2 to 4 d/wk - Summer Option too!
Posted by Emily M. on 11/29/2022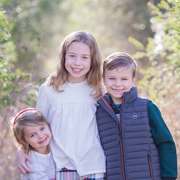 Seeking an after-school sister for three school age kids in NW Ann Arbor, ideally 2 days per week and up to 4 days. Requires own car to pick up kids from school, about 1.5 miles from our house. We have a 12-yr old daughter in 6th grade that loves baking and being a helper. Our 4th grade 9-yr old son is non-stop motion, loves soccer, Legos, art and anything requiring building and problem solving. Our youngest is 6-yr old Kindergartener and also loves all things sports, art nd games. We are looking for someone that can be engaging with the kids for a few hours after school which could include helping with homework, transporting kids to extra-curricular activities, and occasional easy dinner preparation for the kids. School pick-up is at 3:45, generally looking to stay until 6pm, but could extend longer on specific days based on activity schedules if that aligns with your availability. Option for summer nanny too with more hours!
Requirements
School-age experience
Sitter has own car
Responsibilities
Driving the Kids
Help with homework
Prepare Snacks/Meals