Flexible/full time nanny for 2 energetic girls.
Posted by Andrew Sc Q. on 9/24/2023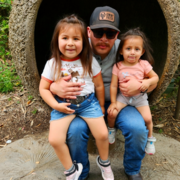 Quezada Family
Cielo - 2.5 yr old. Toddler
Luna - 4yr old. Preschool
Jacky(mthr) - TSA Agent
Andrew(fthr) - K9 Handler
DUTIES
-Pick up Luna from school & help with homework.
-Caring for Cielo throughout the day & conduct learning activities.
-Have girls ready for bed by 8:30 - 9:00 PM
-Light housekeeping duties
-Making meals at home for the girls(nothing crazy/extravagant, mostly dinner)
*Please, be aware that this is the basic of what is needed.
Bear with us as this is new for our small Family. We are seeking for a full time flexible nanny. We are located in the city of Maywood. Luna's school is 1 mile away from residence.
Hours may change, due to work schedules.
With this learning curve, we hope to find our nanny that would like to be involved in the development/upbringing of our children.
Requirements
Toddler experience
Preschool-age experience
Multiples experience
Comfortable with pets
Sitter has own car
Multi-lingual

Speaks: Spanish, English
Responsibilities
Driving the Kids
Help with homework
Prepare Snacks/Meals
Light housekeeping
Light laundry
Running errands
Bedtime
Tutoring