An occasional sitter for two well-behaved boys!
Posted by Katie G. on 10/4/2022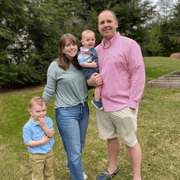 The Goodridge family resides in Kensington, CT, and is currently a family of four with two fun and loving boys aged 6 and 2. We are an easy-going family who loves to watch movies, read books, and play. When mom and dad want a night out, we would love a sitter who is caring and would enjoy doing the same activities. There are no allergies in the house but need someone who knows CPR and what to do if one of them choked. Our nighttime schedule consists of dinner, a maybe dessert, teeth brushing, and quiet time around 730. We are a pretty easy family and look forward to connecting with you!
Requirements
Toddler experience
School-age experience