Part-time Sitter for a 7-Month Baby Girl
Posted by Chris G. on 5/19/2023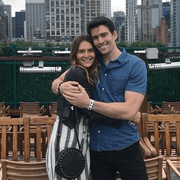 Hello,
My wife and I just had our first child; she is seven months old now.
We are looking for a sitter who can give us a break for a few hours during the week (typically mornings and afternoons, Monday - Friday) with the potential for more days. We both work from home and live in Quincy.
Primary duties are putting the baby to sleep, feeding, reading, tummy time, and active play (no passive experiences like watching tv, iPhone, or iPad). We are looking for someone who is kind, understands child development, has high emotional intelligence, and is not dysregulated by a child's crying and fussiness.
We don't have any pets, don't smoke, and have a very clean home. We have a park 3 minutes down the street and also close to the local library — making it convenient for some fun out-of-home play.
Thanks!
Chris