Wonderful Date Night Sitter for Two Young Boys!
Posted by Nora F. on 3/22/2023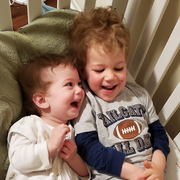 My husband and I have firmly decided that we need to date each other (regularly...outside the house!). The goal is two date nights a month :) We are looking for an agile, active person who is patient, silly, kind, and gentle to care for our two littles (10 m/o and 2.5 y/o) while we are on these dates! Ideally, our person would play, serve supper to both boys, put both to bed, and then chill :) We are a family who loves to play and show interest in our boys. That means being silly, reading, dancing, going outdoors and jumping in puddles, putting together puzzles, watching Blippi/Paw Patrol (current favorites!), singing, and showing that we are interested in whatever they're interested in! We expect gentle, yet firm discipline from our person. Our toddler is strong-willed and independent - he likes pushing boundaries! We use redirection, timeouts, setting expectations and boundaries, and then finally...taking away the toys (!). No harsh discipline in this house. Thank you!
Requirements
Infant experience
Toddler experience
Multiples experience
Sitter has own car
Responsibilities
Prepare Snacks/Meals
Light housekeeping
Bedtime
Toilet training