Nanny Needed For Our Baby Girl In New Boston!
Posted by Jackie G. on 11/2/2022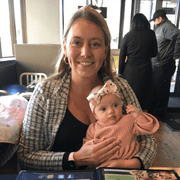 I am looking for someone to care for my daughter weekly starting at the end of January 2023. Tuesday, Wednesday, Thursdays and occasional Fridays. Hours: 10 a.m. - 4 p.m. She will be 7 months at this point! I will be working from home and will want to check in with her when I have breaks. She also will take naps in her crib throughout the day so hoping for some light housekeeping during this down time (dishes, folding laundry, potential meal prep) Please let me know if you think you'd be a good fit! Feel free to leave your number so I can text you and set up a time to chat over the phone if you are interested.
Responsibilities
Prepare Snacks/Meals
Light housekeeping
Light laundry