Long-term Friday nanny needs for 3 fun kids!
Posted by Melissa B. on 9/19/2023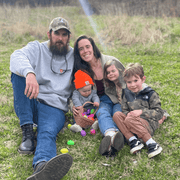 We are a family of 5 plus 1 cute dog! Our family lives right between Chester Springs area and Pottstown. We love to have fun as a family and be outside
On Fridays, we would look for our nanny to get our 6 year old on the bus, then take our 3 year old to school (part time). Then hang out with our 1 year old! Fridays are pretty low key and easy going. Light laundry for the baby's clothes, as our full time person takes care of the rest.
Please let me know what questions you have!
Responsibilities
Driving the Kids
Prepare Snacks/Meals
Light laundry