Part time sitter/nanny for twin 3y/o girls and a 2y/o boy.
Posted by Nicholas M. on 2/1/2023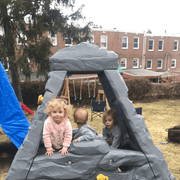 I'm a firefighter with a dynamic schedule and my wife is a mental health therapist working remotely from home with a relatively set schedule. We would need someone who could commit to Thursday evening from 4:00-8:30 PM and Tuesday afternoon from around 1:00-4:00. If things go well and you wanted more work, we would love to bump up the amount of days to something closer to full time. We have twin girls that are 3 years old and 2 year old son, who is 14 months behind his sisters. The children love to run around and play and we have a decent size back yard and nice neighborhood that you could use to occupy their time. They're typically pretty well behaved, but they're active and get hungry fast. We are currently working on potty training so you may have to help with that, if you are comfortable doing so. We'd have dinner made ahead of time, so you'd have to simply reheat and divide the food for yourself and the children.
Requirements
Multiples experience
Comfortable with pets
Responsibilities
Prepare Snacks/Meals
Bedtime
Toilet training