Full-time nanny for a smiley 7 month old
Posted by Faiza H. on 10/2/2023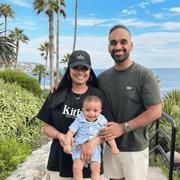 Hello! My husband and I just had a sweet and smiley baby boy (Ilyas, or as we call him, our silly illy) at the end of February 2023. He is 7 months old and adorable as can be - he got his easy going personality from his mom and dad.
To watch and take care of Ilyas during the day while mom and dad work. This includes, playing with him, changing his diaper, feeding him (mainly milk, but have introduced purees), and putting him to sleep. Dad works from home usually (occasionally goes into the office) and I go in to the office about 2 days a week.
We live in a townhome in Eckington. We live an easy 10 minute walk from the NoMa-Gallaudet metro stop, which is on the red line. If you have your own car and want to drive - we have a garage parking spot outback as well.
Responsibilities
Light housekeeping
Light laundry