Nanny for sweet 6 month old!
Posted by Kali S. on 6/27/2022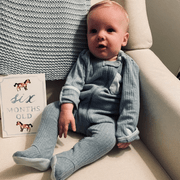 Hi! We are looking for someone to love on our little man Wyatt (6 months) 3-4 days a week (around 9am - 3pm). This position will be around 20-25 hours per week. He is so fun and loves to play! We need help making sure he is well fed and gets good naps in each day. Job duties include: sticking to feeding and nap schedule, playing/bouncer/activity table when he is awake, reading books, singing songs, stroller walks (if you would enjoy that) etc. He is a great baby and we prefer for him to be home during these early years! CPR, first aid required and great references! Thank you so much for considering!
Responsibilities
Prepare Snacks/Meals
Light housekeeping