Part time sitter for adorable 6mo boy!
Posted by Madeline B. on 10/4/2022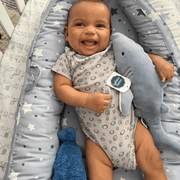 We are a low-key, young family looking for help part-time with our baby, Myles. I'm 32yo, working as a pediatric researcher in Longwood Medical area. My husband works in tech and often one or the other of us are working from home. We live in Dorchester. Ballou, our small fluffy dog, is super low maintenance and sweet, but would love to be occasionally included. Would need someone with a reliable car, COVID vaccinated and cautious. Other than enjoying the baby, hoping for someone comfortable with stroller walks and doing some light housework. My schedule is somewhat flexible but looking for 3 days a week, M/W/Th most ideal. Thanks!
Requirements
Comfortable with pets
Sitter has own car
Responsibilities
Prepare Snacks/Meals
Light housekeeping