Part-time sitter for adorable 5+ month old
Posted by Reshmi B. on 3/22/2023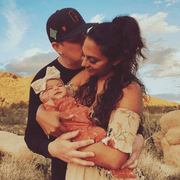 Hi! We are looking for a regular part-time sitter for our baby girl who will be 5 months old this May (which is when we're looking to start coverage). We are first-time parents and are looking for someone who is Covid-vaccinated, experienced with infants, CPR/First-Aid certified, and has own transportation. We need help covering our weekday commuting window between 2p-5/5:30p W-F (6-10 hrs/wk depending on our schedule). Our routine would include feedings, diaper changes, naps, and playtime to encourage proper development and to help reach those milestones!
We have 2 small dogs and a cat, so someone who is comfortable around pets is a must.
Someone experienced, who leads with compassion and a great sense of responsibility, is what we're looking for and we hope you're the match for us!
Requirements
Infant experience
Comfortable with pets
Sitter has own car