Part-time sitter/nanny for toddler twin girls.
Posted by Ana C. on 9/27/2023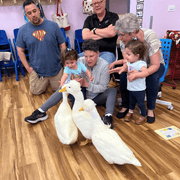 Parents of two wonderful twin girl's looking for someone who someone who will help us by spending time with them, reading, playing with them, help feed, changing them, etc. Someone who CPR & first aid certified is a must.
We need the sitter to care for our children by feeding them, changing there diapers and clothing them when needed, read to them, play w/ them, help me get them ready for bed & help put them to sleep. While I bathe one child I need the sitter to help with the other child by getting her ready. Watch our kids while I walk our dog. Simply take care of our children while I take care of everything else in the house. I will be home to help as well.
My husband works daily but, he works the night shift Sunday, Monday & Tuesday. I need a sitter on those days from 6:00pm-10:00pm the latest would be 10 pm if the kids do not go to sleep in time we will of course pay for the difference.
Requirements
Toddler experience
Multiples experience
Comfortable with pets
Sitter has own car
Multi-lingual

Speaks: Spanish, English
Responsibilities
Prepare Snacks/Meals
Bedtime
Toilet training
Sick care